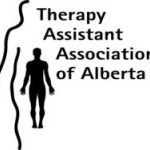 What a wonderful weekend we had at our AGM, Awards Ceremony, Comedy Night and Education Day! Despite a few computer glitches, we had positive feed back from almost everyone.
Thank you to all who attended.  A special thank you to our nominators, nominees, VIP's, Comedian, Rachelle Roach and all our presenters. Thank you to the wonderful service of the Nisku Inn and Convention Centre, you went above and beyond to help in every way. I personally would like to say Thank You to the rest of the Promotions Committee and Board members for your support along the way. Everyone did an amazing job.
Congratulations to our Award winners:
 Student Award – Nicholas Istace
Student Mentor Award – Fiona Mckie
Outstanding Team Practice Award – Aggie Green and Teresa Brens
Outstanding Practitioner Award – Melanie Burr
Long Term Service Award – no nominees
Leadership Award – Dianne Foley (who made the perfect entrance, walking in just as we were announcing the nominee's for this category)
For those of you who were unable to attend here is the President's Report and Promotions Committee Report.
Respectfully Yours,
Lisa Reid – President
Therapy Assistant Association of Alberta
www.thaaa.ca