Healthcare Solutions Multi-Disciplinary Symposium 2017
Who should Attend?
Physiotherapists
Occupational Therapists
Registered Nurses
Therapist Assistants
Physicians
LPN's
Objectives
Learn about new products from over 45 exhibitors representing all aspects of the medical surgical and rehab fields
Listen to top-rated professional speakers and clinical educators. Receive a certificate of attendance for 5 hours of continuing education.
---
A Yoga Workshop for Health Care Professionals
June 3 and 4, 2017 in beautiful downtown Kelowna, BC
You may have heard a lot about the health benefits of yoga and mindfulness lately. You may have been wondered about recommending yoga to patients?
In this experiential weekend workshop, learn the science behind yoga and mindfulness, experience basic poses, different types of yoga, and the practice of mindfulness. Learn why this ancient practice, which has evolved into different styles of modern practice, when taught from a western-medical focus, can help your patients with many health conditions. Yoga has a natural relationship with medicine and rehabilitation: all disciplines promote physical and functional outcomes, improved self-awareness, and taking control over one's wellness.
If you have any of these following questions, this workshop if for you:
How are the practices of yoga and mindfulness useful in the treatment and rehabilitation of different medical conditions?  Is yoga an evidence-based practice?  I don't know anything about yoga, but my clients ask me if I should do yoga, or what poses I should not do? What are the different types of yoga? Will yoga cause harm?
A weekend workshop for Physicians, OTs, PTs, TAs, Nurses, other health care professionals in Kelowna, BC in the beautiful Okanagan Valley.
In this workshop you will have the opportunity to participate in yoga classes (suitable for all levels) to experience different types of yoga.
Registration: $550 plus GST
Early Bird rate: $500 plus GST if registration is received by February 28, 2017
To register:  http://www.yogascienceschool.com/   under upcoming courses.
Presenters:
Brett Wade; PT, PhD
Siri Marken; OT, MEd; E-RYT 200
Plus other qualified and skilled yoga teachers. 

Location:
The Ekahi Center for Yoga and Mindfulness in The Delta Grand Resort in downtown Kelowna.  1304 Water Street.
---
Certificate in Bridging to Canadian Physical Therapy Practice
Are you an internationally trained physical therapist currently working as a therapy assistant?  If so, this program may be of interest.
This graduate level certificate program is designed specifically for IEPTs to bridge to the knowledge, clinical skills and judgment required to deliver safe and effective physiotherapy care and support to adjust to Canadian culture and practices. The Certificate includes online learning modules, in-person labs, clinical mentorship sessions and a full placement. Online work can be done from home. Student attend labs on select Saturdays in Edmonton or Calgary. Mentorship sessions and placements are completed at an affiliated clinic site.
Learn to:
Apply knowledge of professional competencies, ethical reasoning and evidence based practice into physiotherapy practice.
Consolidate and incorporate clinical reasoning, decision making skills and professional judgement required to deliver safe and effective physiotherapy care in the Canadian setting.
Integrate and apply assessment, intervention and evaluation skills across the major practice areas (MSK, CR and Neuro, multi-systems) required for autonomous practice in Canada.
Date: August 2017 – August 2018 (Accepting program applications beginning on Feb 6, 2017)
Location: University of Alberta, University of Alberta Calgary Campus
Website: www.uab.ca/pd
Contact: iept@ualberta.ca

---
Save the Date: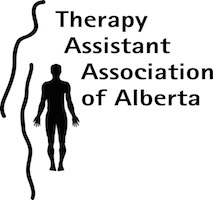 10th Annual Therapy Assistant Association Education Day, AGM and Awards Night
Friday, May 5, 2017
Red Deer, Alberta
More information to come in the New Year.